Good Housekeeping Magazine's Elemis Favourites
The Elemis products our beauty team swears by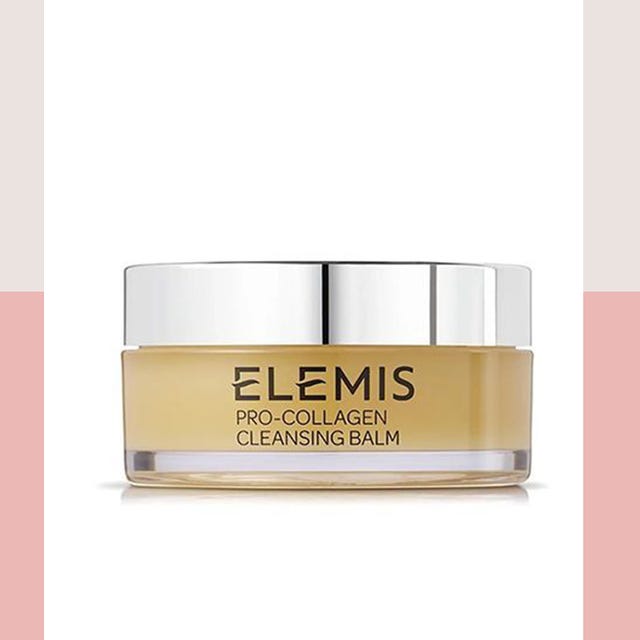 It was back in 1994 when Elemis first came on to our radars. As it began to be stocked in spas around the country, the brand quickly became synonymous with excellent treatments. If Elemis was on the treatment menu, you know you were guaranteed a good facial…
After the launch of its now iconic Pro-Collagen Marine Cream in 2003, Elemis was no longer the spa-goers secret. The moisturiser's luxurious gel-cream texture, and ability to deliver serious hydration had consumers hooked – and hooked quickly!
Part of the allure of the brand has always been its heartland in aromatherapy inspired formulations. Each product in the range harnesses natural fragrance (often from the potent botanical ingredients), alongside serious scientific innovation, delivering a sensorial experience and a promise to transform your skin.
Still at spas nationwide (over 1600 of them says Elemis), the products are now also widely available online and in stores. The range is expansive, offering everything from best-selling anti-ageing creams and serums to destressing bath and body treats.
The yearly limited edition collaborations are worth looking out for too. Previous collaborators have included fashion brands Rixo and Alice Temperley, and more recently, Olivia Rubin. We particularly loved the Pro-Collagen Rose Hydra Mist, bundle, combined with an aromatic candle in Olivia's signature rainbow stripe. So pretty!
If you need inspiration as to what to try from Elemis, our GH beauty team shares some favourites here to get you started. You won't be disappointed!
1
Pro-Collagen Cleansing Balm
ELEMIS
cultbeauty.co.uk
£44.00
A brand bestseller and favourite for Senior Beauty Editor Alexandra Friend, this cleansing balm is a staple in her skincare routine.
"It's silky soft and has the most uplifting spa-in-a-tub scent," said Alex. "Of all the cleansing balms (which I love, for removing sunscreen, makeup and pollution gently and effectively) it's the one that emulsifies really well, transforming quickly and easily into a soothing milk. My skin is clearer and happier when I have one of these on the go."
Top tip: massage the balm into skin and emulsify with water. Place a warm flannel over the face and hold it there for one minute. Inhale deeply to fully experience the delicious scent of the oils.
It now also comes in a fragrance free version, for those fragrance averse or particularly skin sensitive.
2
Frangipani Monoi Body Oil
Beauty Director Eve Cameron loves a body oil, and this one is no exception.
"This is the smell of summer to me. Sunny, uplifting, happy-making – especially good in the depths of winter. The oil is wonderfully hydrating for my dry legs and I also like to use on my shoulders, collarbones and arms to give skin a gleam if I am wearing a strappy dress," said Eve.
Remember, this oil solidifies in room temperatures. In order to loosen the oil, take the bottle into the bathroom with you when you shower or bathe. It'll melt into a delicious, fragrant oil for your skin in no time.
3
Peptide4 Overnight Radiance Peel
ELEMIS
johnlewis.com
£56.00
If you're a fan of an overnight exfoliation treatment, then this peel might just become your new favourite.
This milky serum is packed full of AHAs, omegas and fatty acids. Lactic acid, though, is the star of the show here, giving skin a gentle polish and exfoliation overnight. Working in tandem with omegas and fatty acids, you can expect a plumper, more even, and brighter skin by morning.
Apply a layer to cleansed skin overnight, and reap the rewards in the morning. It's fuss-free skincare at its finest.
4
Elemis Body Detox Skin Brush
ELEMIS
feelunique.com
£21.00
Beauty Assistant Medina Azaldin's favourite Elemis product may come as a surprise.
"I pride myself on having soft skin. I might have acne and plenty of scarring but the skin on my body is soft, and no one can take that away from me.
To maintain the softness, a thorough scrubbing using this brush does the trick. I use it dry before stepping into the shower, then apply body oil on damp skin followed by a thick lotion before snuggling into bed."
5
Skin Nourishing Bath Milk
A luxurious blend of minerals and Japanese Camellia oil will help soothe the skin, whilst enveloping limbs in a pool of milky hydration.
As the gentle scent of camellia oil fills your bathroom, and you leave the bath feeling silky soft, you'll feel like you've just stepped out of a swanky spa.
6
Superfood Blackcurrant Jelly Exfoliator
This exfoliator recently scored a very respectable 86/100 in our GHI tests of face scrubs. While some scrubs risk being too harsh on the skin, the blackcurrant particles in this product allow for a more gentle exfoliation – especially when compared to other abrasive scrubs on the market.
Our testers noted that their skin felt notably brighter and smoother. The antioxidant properties help to remove pollution from skin, while bilberry extract ensures skin is left conditioned and not stripped.
If you're not yet ready to branch into chemical exfoliants (aka, acids) this scrub is a great alternative.
Scoring 86/100, our testers loved the botanical, fresh scent. They noted there was no greasy residue and the oil easily absorbed into skin, providing ample hydration and comfort.
Fan of a facial massage? Then this oil is for you, too. It creates a perfect amount of 'slip', allowing hands to glide seamlessly over the face without tugging on delicate skin.
8
Pro-Collagen Marine Cream
ELEMIS
johnlewis.com
£87.00
Don't be fooled by its lightweight texture – the hydration will last all day. Scoring 81/100 in our GHI test, testers praised its silky texture and hydrating abilities.
The longevity of your makeup doesn't have to be compromised here, either. Wave goodbye to your makeup slipping and sliding with this cream underneath – our testers noted that the cream was instantly absorbed.